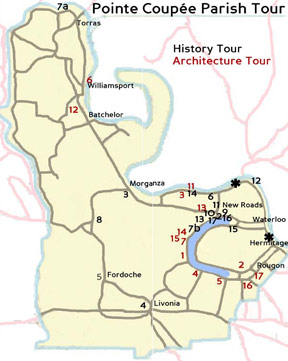 By Brian J. Costello, Pointe Coupée Parish Historian


*MUST SEE - Pointe Coupée at Scott Bend on LA 10 East
One of the earliest postes or forts in the Mississippi Valley established in this vicinity by the French circa 1729. First St. Francis of Pointe Coupée Church built in vicinity in 1738. New poste and second church built at this site 1760. Former poste buildings used as first courthouse of Pointe Coupée Parish 1804-1846. Second St. Francis stood until demolition in 1892. Sites of 1760 poste and church now within bed of Mississippi River due to gradual encroachment of river into this shore.

*MUST SEE - False River at Waterloo and Hermitage, both on LA highway 415 South
Four mile-long portage across 22 mile-long bend of the Mississippi River crossed be Canadian explorers under Iberville in 1699. Successful flooding of Mississippi River adopted this portage as main channel by 1722, leaving behind an oxbow lake. Severed point named by the French "la Pointe Coupée" (cut-off point). Oxbow lake named by the French "la Fausse Riviere" (False River).

2. New Roads - LA highways 1 and 413
Terminus of "Camino Real" or "Royal Road" built by Spanish to connect False River with Mississippi River circa 1776. The French called the road "la Chemin Neuf" or "the New Road". First six blocks of town opened in 1822 by free woman of color named Catherine Depau dite La Fille Gougis. New Roads named parish seat 1847. Post office operated 1858-1861 as False River. Post office reopened 1878 as St. Mary's, renamed New Roads 1879. Town incorporated as New Roads in 1875 but charter became obsolete. Town reincorporated as New Roads in 1894.

3. Morganza - corner of LA highways 1 and 10
Post office opened 1847 and named for early American political figure Charles Morgan, on whose plantation the town developed. Site of major Federal fortification and considerable skirmishing during the Civil War. Entire village burned by Federal troops on October 1, 1863 in wake of Federal capitulation at Stirling Plantation on previous day.

4. Livonia - corner of LA highways 77 and 81
Location of several Indian mounds from Cole's Creek period (circa 400-circa 1100AD). Post office opened 1846 and named by first postmaster James B. Johnson for his native Livonia, Pennsylvania.

5. Fordoche Town Hall - intersection of Railroad and LA highway 77
Post office opened 1854 and named after French term for underbrush found in bayou bottom. Area was of considerable Italian settlement after 1890.

6. Julien Poydras 1760-1824 LA 420 at Delta Lane
Merchant, planter, banker, literary figure, local, state and national political leader, benefactor to Parishes of Pointe Coupée, West Baton Rouge and New Orleans. This is the site of his residence plantation, where began slave rebellion of 1795. Site of Poydras' plantation complex was taken by the encroachment of the Mississippi River during latter half of 19th century.

7a. Latanache - corner of LA highways 418 and 970
One of the last Indian settlements, Little Tunicas village existed here until abandonment in 1726. Latanache was an Indian chief, named for "latanier" or fan palm that grew in area. After 1800, region was land grant from United States government to General Marquis de Lafayette for his services during American Revolution.

7b. Pointe Coupée Industrial and High School LA Highway 1 at Zion Travelers Baptist Church
First-known high school for African Americans in rural Louisiana opened here in 1900 by Professor P.A.L. Planving (Plantevigne). School closed after his assassination by unknown parties in 1903. Planving's grave is on this property.

8. Stirling Plantation corner of LA Highways 10 and 77
Largest Civil War engagement in Pointe Coupee Parish fought here on September 29, 1863. Federal casualties: 16 killed, 45 wounded, 462 taken prisoner. Confederate casualties: 26 dead, 85 wounded, 10 missing.

9. Pointe Coupée Parish Courthouses 1848-present
Brick courthouse built on this site 1847-1848. Stood until 1902 wihen original, front section of present courthouse built. Annex to rear of present courthouse added 1939-1940.

10. St. Mary's Churches 1823-present
First St. Mary of False River built near northwest corner of Main and St. Mary Streets in 1823. Demolished in 1907. Present church built according to design of architect Theodore Brune 1904-1907. Steeple completed 1929. Vaults under present church believed to contain remains of Marie Porciau Robillard Olinde on whose property the 1823 and 1904 churches were built.
11. Old Poydras High School
Site of 1792 slave rebellion by Africans of the Mina nation. Poydras Academy located here 1890-1924. Replaced in 1924 by Poydras High School. Benefactor Julien Poydras's remains transferred here from abandoned St. Francis Cemetery on Mississippi River and reinterred beneath present monument in 1891. Located on Main Street in New Roads.

12. Steamboat "Constitution" Disaster – just downriver of ferry landing
First-known steamboat disaster on Mississippi River, the steamboat exploded while rounding this bend in 1817. Victims buried in nearby St. Francis Cemetery, which site is now in bed of Mississippi River.

13. Poydras College – LA highway 1 at Randall Oak. Randall Oak is located on False River Drive (Highway 1) in Mix, approximately two miles outside the city limits of New Roads.

Boys' academy opened here 1833 with funds bequeathed by Julien Poydras. Classical revival school building built 1836. Operations suspended 1864-1866. School reopened, for a brief period in 1867, then closed permanently. Building used as a residence when destroyed by fire in 1881. Randall Oak named in memory of Professor James Ryder Randall who taught here and wrote "Maryland, My Maryland" while at the school in 1861.

14. Dr. Rivers Frederick – southeast corner of LA highway 420 and Joe Beaud Road
Boyhood home of pioneer African American physician stood near this intersection on St. Joseph Plantation owned by his parents in second half of 19th century. Frederick was affiliated with Flint-Goodridge and Louisiana Life Insurance, both in New Orleans.

15. The Island corner of LA highways 413 and 414 at Ventress
Area between False River and Mississippi River named "L'Isle" or "the Island" by early French settlers. Most of Island was land grant by Spanish government to Dr. Benjamin Farrar. Became area of settlement from overcrowded west bank of False River when Julien Poydras and nephew Benjamin Poydras de la Lande divided former Farrar grant into small farms beginning in 1800.

16. Pointe Coupee Parish Courthouse 1847-1848 northside of 200 block of West Main Street.
First courthouse at New Roads located in Bailey Building here. Building later home to Bondy, Boudreau, Arlington, and Gosserand Hotels. Post office located in this building 1879-1887. Building demolished in 1931 for expansion of Morel's Hotel. Morel's demolished in 1999.

17. Graugnard-Richy Building 1850s, 124 West Main Street, New Roads.
Oldest commercial building in parish, built for Graugnard Freres commercial firm, later home of Joseph Richy's commercial firm and location of first bank in parish, last surviving building with 19th century grillwork.



RED NUMBERS - Sites of Architectural Significance

1. Parlange, built circa 1816 for Vincent Ternant II or, if earlier, by Pierre Bahot. Located on False River Road five miles southwest of New Roads.

2. Nicholas LaCour House, mid 18th century, originally on PC road, moved here in the 1990s. Located on Highway 414.

3. Labatut House, built 1830s for Zenon Porche.

4. Austerlitz, built 1832-1836 for Antoine DeCuir, free man of color.

5. River Lake, core built circa 1791 for Antoine DeCuir, additions made in 1820s and 1880s.

6. St. Stephen's Episcopal Church

7. Pointe Coupée Museum, original (upriver) built circa 1800 for George Olivo II, downriver room added 1840s. Museum is located on Louisiana Highway 1 six miles south of New Roads.

8. Holden House, originally stood on Benjamin Poydras's False River Plantation, building moved here 1970s, circa 1820

9. LeJeune House, built 1856-1857 for Jean Baptiste LeJeune onsite of earlier Samson-Chenevert house.

10. Pleasant View, built 1840 for Louis Amazon Hubert. North Bend, original downriver portion built circa 1820 for Julien Poydras, upriver addition added 1830s-1850s. Overlooks the False River in the town of Oscar.


Not Numbered Yet


White Hall, home of Bennett Barton Simmes

Belvue, built for James Richebeau Gayle, circa 1840?, now remodeled

Bella Vista, built as a slave hospital for Charles Stewart

Lakeside, built 1860 for Charles Stewart

Taylor House

Old Hickory, built for Zenon LeDoux II

Fanny Riche House, built 1820s, later home of Fanny Joe Riche, free woman of color

Claiborne Law Office (now rear wing of Conquest), built circa 1828 in New Roads for Pierre Dispau de Savarie, moved to PC road 1965

Wickliffe, built 1830s for Terence Samson

Lieux Saloon building, built 1876, opposite courthouse

Samson-Claiborne House, 1830s, moved from Waterloo to New Roads 1880s

Victorian era homes: Poydras, Richy and Main Streets

Garrett House, core built circa 1809, east and west additions added 1850s for François Porciau II

Mon Rêve, built for Valerian Bergeron, circa 1850

False River Pharmacy, built 1892 as a cooperative saloon

Thomas Mix Store, circa 1900

Ramsey, rebuilt 1943 after fire destroyed most of circa 1860 New Olivo House built by Joseph Richy for Sidney A. LaCoste

Merrick Chustz store, circa 1900

Stewart House on Alma, original portion was small house on this, one of Julien Poydras's plantations, circa 1820

P.V. Rougon Store, 1880

Jean Baptiste Bergeron House, circa 1840

Valmont Bergeron House, circa 1840

Pa' Louis Dalmas House, originally on False River, moved here in the 1990s

Gradenigo House, moved here from Prairie Ronde near Opelousas, 1990s

Hollensworth House, circa 1840

Glynnwood, built in portions 1830s-1890s

Valverda, circa 1840?

El Dorado, 1850s - This large plantation is situated one mile south of Livonia on the west bank of Bayou Maringouin.